NEW DELHI: In 1994, weightlifter Karnam Malleswari returned from Istanbul with a historic World Championship gold medal. She was just 19 then, and a little confused after landing in Delhi. There was a huge crowd at the airport, but all the people there were looking elsewhere.
Another Indian woman, all of 21, had returned from South Africa. This was Aishwarya Rai wearing her Miss World crown. As people elbowed each other to find a better space and catch a glimpse of Aishwarya, Malleswari waved down an auto, threw her bags in and set off for the Jawaharlal Nehru Stadium. Nobody had come to receive the 'World Champion', while the 'Miss World' was losing count of the garlands.
Indian sportspersons in the '90s and before that rarely drew second looks. Glamour was restricted to cricket, and 'Miss Worlds' as Malleswari found out first hand.
Imagine that moment. And after that, consider this: Malleswari defended her world title in 1995, followed it up with a bronze in 1996, her second Asian Games silver in 1998 and then the big one — a bronze at the 2000 Sydney Olympics. The first Indian woman to win a medal at the Games.
For a teenager to take what she experienced at the airport after winning a world championships title, and then go on to set the bar higher is perhaps the definition of 'resolve'. In comparison, tackling allegations of 'drinking beer and bad food habits' just before the Sydney Olympics was like swatting a fly for Malleswari.
Karnam Malleswari lifts the bar high for India at Sydney 2000 | Athlete Highlights
As all of the above sinks in, it's difficult to contest Malleswari's view that she went to Sydney quite sure of gold, despite a sea-shift in weight category.
She competed in the 54kg division for most of her career, but at the 2000 Games Malleswari was lifting in the 69kg category. A 63kg silver at the 1998 Asiad had given her all the confidence she needed, even in a higher weight category.
And that historic day in Sydney 21 years ago started like this.
"I woke up, offered my prayers to Lord Ganesha and Lord Shiva, and went off for the competition," Malleswari, who by then had already won the Arjuna award (1994), Rajiv Gandhi Khel Ratna (**1994-95) and Padma Shri (1999), told TimesofIndia.com.
(Karnam Malleswari offering prayers at her home – Photo courtesey @kmmalleswari Twitter)
Twelve years after starting her weightlifting journey as a 13-year-old, Malleswari had already put her hometown Voosavanipeta in Andhra Pradesh on the world map. On September 19, 2000, when she climbed up a small flight of stairs leading up to the lifting podium inside the Sydney Convention and Exhibition Centre, Voosavanipeta's presence on the globe was set to become more distinguished.
Malleswari had ended the 'Snatch' with her third successful lift of 110kg being her best. She bettered her previous two successful attempts of 105 and 107.5kg.
The 'Clean and Jerk' is the other half of the two parts in which a weightlifting competition is divided.
The first round ended. Malleswari lifted 125 kg, with her total (including her best Snatch attempt of 110kg) standing at 235 kg. But China's Lin Weining held firm at the top with a total of 242.5kg. Malleswari was in third place, behind Hungarian Erzsebet Markus's 237.5 kg.
Round two – Clean and Jerk: Weining goes for 137.5 kg, red lights, failed attempt. Markus goes for 130 kg, successful. Malleswari attempts 130 kg as well, makes it. The Chinese and the Hungarian shared the top position now with a total of 242.5 kg. Malleswari, almost assured of a medal, was at 240 kg.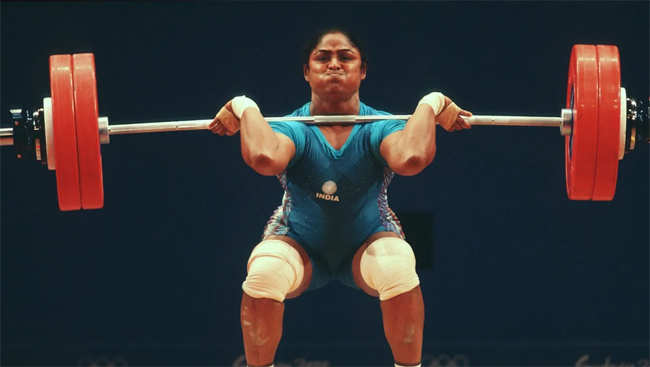 (Karnam Malleswari at the 2000 Sydney Olympics – Photo courtesey Olympics.com)
Next up, the decisive round.
"You know, we attempted an Olympic record (of 137.5 kg in the third attempt), while there was no need to do that," said Malleswari. She maintains that even now and believes that the gold was hers if not for a miscalculation by the coaches.
"There was a mistake in calculating weight, otherwise I could have won gold," she told TimesofIndia.com.
A weight of 7.5 kg was added to the metal rings at the either end of the rod to make it 137.5 kg.
The Indian, a short but solidly-built frame of five feet four inches, walked up. The lift seemed fine. The bar resting on her shoulders, Malleswari went for the jerk but it didn't look reassuring. Heartbreak. She missed it. The gold slipped away, silver as well, but the bronze was India's.
Karnam Malleswari became the first woman from India to win an Olympic medal.
20 years ago at #Sydney2000.. The moment of glory, honor and pride to see the Indian tricolor go up and create his… https://t.co/j1oJn4hUiJ

— Karnam Malleswari, OLY (@kmmalleswari) 1600482500000
"Leading up to the Sydney Olympics, my performance was such that I could win gold. I worked really hard for two years before the Sydney Olympics, trained 12-13 hours daily," said Malleswari, putting her memories in words.
"When I won the medal in Sydney, it was like 'achanak kuchh chamatkar ho aur uske baad logo ko react karne ke liye time chahiye hota' (some magic happens and people take time to react)."
It led to a change. The bar had been set higher.
"The thought process then and before 2000 was that if we could even participate at the Olympics, it would be a big achievement. That was the benchmark, especially for women in India.
"After I won the medal in Sydney, the gap (between the next Indian woman to win an Olympic medal) lessened. It took 12 years, but two women from India finished on the podium (bronze medals for MC Mary Kom in boxing and Saina Nehwal in badminton) at the 2012 Games in London," Malleswari told TimesofIndia.com.
Returning from Sydney, Malleswari once again landed at the Delhi airport. The same place where six years ago she arrived as a weightlifting 'world champion' only to find people rushing past her to welcome 'Miss World' Aishwarya Rai.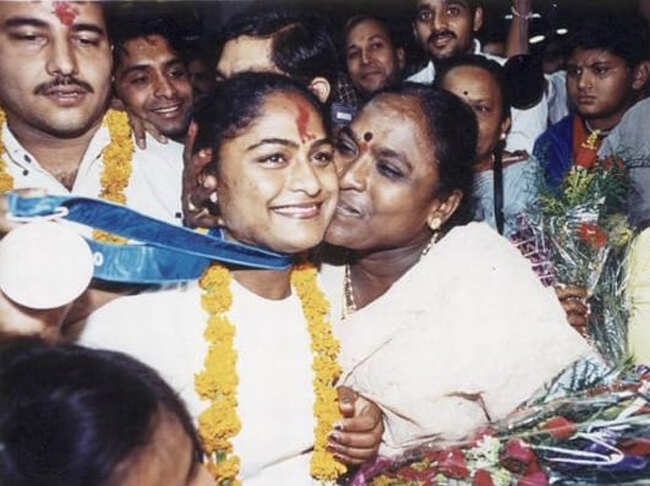 (Karnam Malleswari with her mother after returning from the Sydney Olympics – Photo courtesy @kmmalleswari Twitter)
"But when I came back from Sydney, I received the same welcome (as Aishwarya in 1994)," she said, and a smile followed.